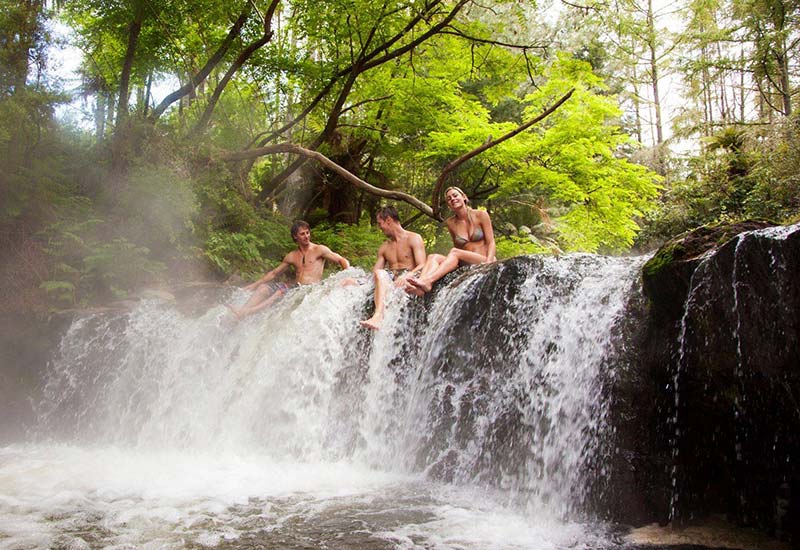 Blossom Cottage is perfect for families: toys, books and movies are available and even a big suitcase with dressing up clothes. There is a playground with swings, trampoline, table tennis and life-sized football goal. Children, and adults, can feed and interact with the hens and alpacas, Milky and Cocoa, and free animal feed is provided.
There are many free options for families when visiting vibrant Rotorua and the surrounding area. Kuirau Park in Rotorua offers bubbling mud pools, barbecues, picnic tables and a paddling pool. A place not to be missed is Ohinemutu with its Marae, Meeting House and Saint Faith's Church.
A walk around Sulphur Point or a visit to the redeveloped playground at the Rotorua lakefront is a must for the children, and includes a mini velodrome and rock-climbing wall or, for the little ones, visit the playground near the giant, shady tree in Government Gardens. After all the activities, treat the family to a delicious ice-cream at Lady Jane's Parlour, just a short stroll from the Lakefront.
Stunning walking tracks for the family can be found at Mount Ngongotaha, the Mokopuna trail at the Redwoods, Blue Lake, Boyes Beach or Board Walk at Lake Okareka, Rainbow Mountain, to name just a few.
Take a picnic lunch and visit idyllic Kerosene Creek, hidden amongst native bush, and have a hot soak in the pool or sit at the top of the waterfall.
For those who want to get on their bikes, there are many mountain biking tracks for all ages and abilities in the Redwoods or Whakarewarewa Forest.
End the day with a walk along Lake Rotorua in Hamurana and sit at the lake's edge and admire Mokoia Island, while eating a pie or fish and chips from the Hamurana Store.